Brandon Champ Robinson
Director of Photography
in Van Nuys, Los Angeles, CA, USA
Hi I'm Brandon 🙂
Although Champ pursued a "less-than-traditional" film education, he has experienced a decent amount of successes. In the early days of his career, Champ created a name for himself in his city of Milwaukee producing music and filming music videos. Within those music videos, Champ incorporated storylines which quickly ignited his passion for creating films. Champ began to study the art of writing and diving deeper into cinematography; ultimately deciding to attend Madison Media Institute where he received an Associates Degree in Video and Motion Graphics. After feeling hitting the glass ceiling of what his city had to offer his career, and after undergoing a neuro-surgery, in 2014 Champ decided it was time to take his talents to the west coast. He started Imagination Upgraded, packed up his wife, two kids, and two dogs, and made their way from MKE to LAX. Once in California, Champ made hit the ground running. Landing job with Drone company DJI directing and editing, Champ created the launch videos for the DJI Osmo, Phantom 3, and the DJI Focus. After a year of corporate work, he decided it was time to pursue what he came for, directing narrative films. Champ has directed a feature film entitled "The Workout Room" Starring Joe Torry, Torrei Hart, Little JJ, and Tammy Townsend. Champ has also written and Directed a crime drama pilot "Noodles," and edited five independent feature films. Champ also has worked with brands, shows, companies, and talents such as Netflix, TNT, The TV show Atlanta, Black Rifle Coffee Company, Bleacher Report, Overtime, Ubisoft, T.I., Lionel Richie, Peabo Bryson, Sugar Shane Mosely, and many others.
"All I have in this world is my balls, and my word... and I don't break them for nobody." - Tony Montana, Scarface.
Skills +
Brandon Champ Robinson - Director's Showreel
A compilation of pieces that I've shot, Directed and edited. Please enjoy!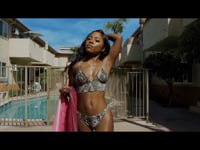 Brandon Champ Robinson - Director's Showreel